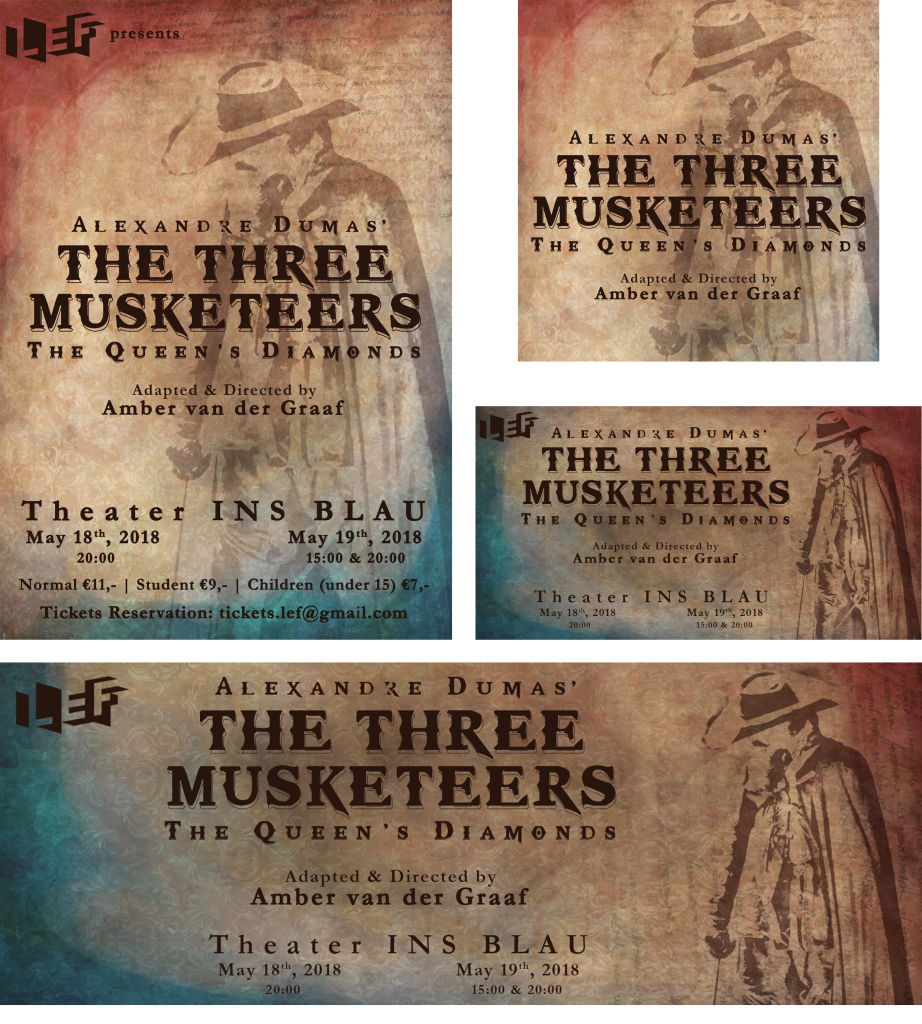 The Three Musketeers was a theatre play produced by the theatre group Leiden English Freshers (LEF) in Leiden. The play is based on the novel of the same by Alexandre Dumas. During this production, I not only acted, but also was in charge to design online and offline materials for the Marketing/Public Relations division.
I worked closely with the head of Public Relations and cooperated with another designer to come up with a poster concept for the play. I first submitted my own version of the poster while the other designer did the same. Eventually, Public Relations wanted to combine our works into one. We ended up using the color scheme and font of the other designer and using the images and graphics I created.
By combining our ideas into one project, we ended up creating different versions for the poster that the director of the play made the final decision on which one she wanted.
I loved working on this project with the other designer, because we share a common interest in what we wanted the poster to represent. We both learned from each. I especially learned a lot from here. I pray we get to work in the future again.
The final products consists of:
A poster/flyer to be distributed through out the city of Leiden
Facebook Cover Photo
Event Banners for online use
A few weeks before the performances, there was a dress rehearsal. I was so taken back by the costumes that I decided to do a little project on the side. I managed to organise a small photoshoot with the main cast members in their costumes and later transformed the images into oil-painting portraits. This was my first time ever experimenting something like this, but I was determined. In the end, the results speaks for themselves. The LEF Board was impressed that they not only use them for marketing purposes but also to print one of them out in a large format to be used for the play. Below you will see some results of the portraits.